Hey Girl! What would YOU do with $10,000?! Apply today for $$ for your great idea!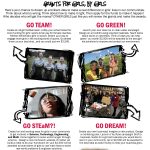 Here's your chance to dream up a brilliant idea to make a real difference in girls' lives in our communities. Think about what is wrong. Think about how to make it right. Then apply for the funds to make it happen! Who decides who will get the money? OTHER GIRLS just like you will review the grants and make the awards.  Apply now to fund your idea – applications are only being accepted until June 6th so don't wait!
<–Click the image to the left to download a printable flyer.
Seeking projects in the following categories
GO TEAM! (Sports)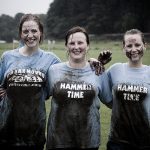 Create an all-girl football team. Lobby your school board for more funding for girls' sports & fair pay for female coaches. Mentor elementary girls in soccer. Dream up a way to engage more girls in the exciting world of sports. Go ahead throw us your best shot…and you could just win $2,500.
APPLY NOW!
GO GREEN! (Environment)
Launch your own clean air or clean water campaign! Design an art exhibit using recycled materials. Teach teens about toxins in cosmetics. Think of ways you can help 'green' our world! $2,500 will be awarded to the best girl-led solutions to improve and protect our environment.
APPLY NOW!
GO STEaM?! (Science, Technology, Math, and Science)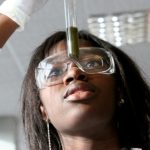 Create fun and exciting ways for girls in your community to get involved in Science, Technology, Engineering and Math. Come together to solve world hunger through science. Design a new homework website. Or better yet build a robot to do your homework for you! $2,500 will be awarded to teams of girls to use math facts to solve real world problems & engineer solutions.  APPLY NOW!
GO DREAM! (Start a Business)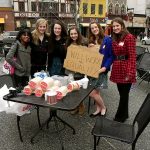 Create your own business! Imagine a new product. Design a marketing plan. Launch a YouTube campaign! Draft a business model for a girl-led business you would like to start in your community. Up to $2,500 will be awarded to the best idea as seed money to help your business grow.
APPLY NOW!
Frequently Asked Questions
Who Are We?
GirlGov is a program of the Women and Girls Foundation. Girls from different neighborhoods & schools have come together to make our communities a better place for girls to thrive. We have $10,000 which we will grant away to teams of girls- to run programs to benefit girls like all of us, right here where we live!
Who Are YOU?
Groups of teen girls who are:
• Entering 9th through 12th grades in the Fall of 2012;
• Interested in leading a new project in Allegheny, Fayette, Greene, Washington and/or Westmoreland County that will benefit other girls;
• Teams can be boys AND girls, but girls must be in the lead;
• Working on a project for the 2012/2013 school year.
How Do You Apply?
Here is a suggested plan of action:
• Look over our project categories above.
• Think about a fabulous project that you think fits these goals.
• Be clear about what your project idea is.
• Identify other girl team members who can help you achieve your goal.
• Submit your application online by June 6, 2012
(Don't worry – It's super easy!)
How Much $$$ Can You Request?
A total of$10,000 will be divided between our four project categories.
You can request from $500 to $2500 for your project.
What Can't We Fund?
• Scholarships for individual girls;
• Activities that promote a particular political party or a candidate for public office;
• Religious organizations for religious purposes;
• Adult-led lecture series or one-time event;
• Projects taking place outside of Allegheny, Fayette, Greene, Washington, or Westmoreland County (Multi-county projects are OK; we would be excited to learn of a project that covered more than one county!)
When Will You Know If Your Project Has Been Chosen?
You will be notified of your award by August 1, 2012 and we will ask you to complete a brief grant agreement by September 1, 2012. Grant checks will be mailed upon receipt of your completed grant agreement.
Have Questions?
Call 412.434.4883 or email info@wgfpa.org
GirlGov is a program of the Women and Girls Foundation, and has been generously supported by the Chevron Community Fund, Claude Worthington Benedum Foundation, Community Foundation of Fayette County, Eden Hall Foundation, FISA Foundation, Grable Foundation, and PNC.