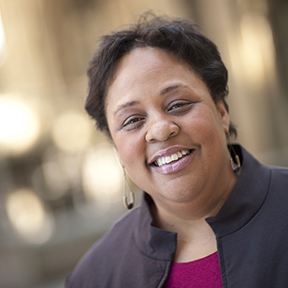 Audrey J. Murrell ASSOCIATE DEAN, COLLEGE OF BUSINESS ADMINISTRATION, Katz Graduate School of Business, University of Pittsburgh.
Dr. Murrell conducts research, teaches, and works with organizations on strategies to enhance overall effectiveness by utilizing their most valuable assets–their human and social capital. She conducts extensive research on building capacity of people and outcomes at work with a special emphasis on enhancing outcomes for women. This includes topics such as mentoring, breaking the "glass ceiling", diversity, and workplace discrimination. Her work has been published widely in management and psychology journals as well as book chapter and special issues. Popular media—including The Wall Street Journal, the Pittsburgh Post-Gazette, Atlanta Journal Constitution, Pittsburgh Business Times, Cleveland Plain Dealer, Black Enterprise, Jet Magazine, and Vida Executive (in Brazil)—has also highlighted Murrell's work. She is the author (along with Crosby and Ely) of the book titled Mentoring Dilemmas: Developmental Relationships within Multicultural Organizations and the author (with Forte-Trammell and Bing) of the recent book Intelligent Mentoring: How IBM Creates Value through People, Knowledge and Relationships. Dr. Murrell received her BS from Howard University, magna cum laud in 1983 and a MS in 1985, and a PhD in 1987 from the University of Delaware.
She serves as a consultant in the areas of mentoring, organizational effectiveness, teamwork, diversity, and leadership development. Her clients have included Alcoa, IBM, Heinz, Bayer, Eli Lilly, Kaiser Permanente, Fed-Ex Ground, Executive Leadership Council, YWCA, Carnegie Libraries, Human Engineering Research Labs, Kent State University, Howard University, and Hampton University.
Audrey's community service activities include serving as the board chair North Side Christian Health Center. Her previous board memberships include: Mentoring Partnership of SWPA, Urban Youth Action, American Red Cross, Family Services of Western Pennsylvania, Fund for the Advancement of Minorities in Education (FAME), Leadership Pittsburgh, Pittsburgh Presbyterian Foundation, FISA Foundation, Minority Enterprise Corporation of Southwestern Pennsylvania, Western Pennsylvania Lung Alliance, and Three Rivers Adoption Council. Professor Murrell has worked with the American Red Cross as an instructor, public affairs specialist, volunteer in the National Disaster Human Resources System, and previous member of the National Diversity Advisory Council in Washington, D.C.