Feminist Update
Your weekly update on all things feminism. Keep up to date on the election, the news, and what is going on in the world of women.

WGF Updates: 

Paid Sick Leave Legislation is Passed!: WGF is pleased to announce that the Pittsburgh City Council approved the Paid Sick Day ordinance on Monday, August 3. Though businesses are expected to challenge the law, Mayor Peduto is expected to sign it. READ MORE>>
Women's National Team Soccer Game Outing: We are purchasing a block of tickets for Sunday, August 16th's U.S. Women's National Soccer Team match against Costa Rica at Heinz Field at 1:30pm. Please contact Stephanie at 412.434.4883 or stephanie@wgfpa.org by Sunday, August 9th if you would like to purchase a ticket. If we sell 20 tickets, the cost will be $28 per ticket (if we sell less than 20, the price will be $38.65).
CEO Heather Arnet to Run for State Senate, Staff Changes for WGF: On Saturday, August 1st, the Allegheny and Washington County Democratic Committees
formally voted to elect Heather Arnet to serve as the Democratic Candidate in the Special Election for Pennsylvania Senate District 37. The election will take place on November 3, 2015 to fill the State Senate seat vacated by Matt Smith. During the campaign, Vice President Tara Simmons, who has managed finance and operations for the foundation for the last eight years, will lead day-to-day operations at the Foundation as the Interim CEO. Blayre Holmes, Program Manager, will continue her leadership of the GirlGov program, and Stephanie Fedro-Byrom, Public Liaison, will lead public relations and community outreach. Heather will serve as the Chief Strategy Officer.

In the News:
Vice to Launch New Feminist Website "Broadly": Just launched by Vice News today, Broadly is a website by women for women that promises to stay objective. Says editor Tracie Egan Morrissey: "Now is the time to elevate the coverage of women's interests by telling the stories that matter to us, through in-depth, original reporting and documentary video. We didn't want to hold our breath and wait for general interest outlets to do that." READ MORE>>
London Hosts Convention for Teenage Girls: Called GirlCon, this 2-day conference is created by and for teenage girls. With subject matter ranging from fangirls to One Direction to gender identity, the conference aimed to create a safe space for girls to be themselves and explore their interests, whatever they may be. This Tumblr based movement brought together girls and young non-binary people of all kinds together in a fun and community-oriented way. READ MORE>>

Election Updates:
First Republican Debate to be held Thursday: Fox News will be airing the first of the Republican party debates on Thursday, August 6 at 9 pm EST. With so many candidates running for the Republican nomination, Fox News will be capping off the debate to the top 10 candidates, with the deadline for results this Tuesday. However, the results are very close and could come down to rounding. READ MORE>>
Keep posted on all the debate schedules, formats, moderators, and topics with this guide from Politico.

Feminist of the Week: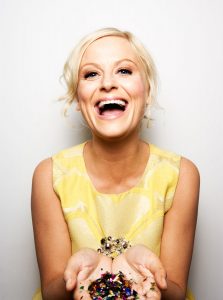 You may know her from Parks & Recreation or Saturday Night Live, but Amy Poehler is also a feminist. She runs the program Amy Poehler's Smart Girls, which highlights the achievements of young girls all over the world. She also works in comedy, one of the hardest areas of entertainment for women. She also runs a webseries entitled Smart Girls at the Party. Her good friend Tina Fey is also a feminist, and together they are basically unstoppable.