Feminist Update
Your weekly update on all things feminism. Keep up to date on the election, the news, and what is going on in the world of women.
WGF Updates:
INSPIRE.  REFUEL.  REFLECT.  CONNECT. 
In service of the Women and Girls Foundation's (WGF) mission to develop women leaders, and timed to coincide with Women's History Month in March, the Crossroads Conference focuses on connecting women to one another and to the community resources which can help further their professional careers and strengthen their personal lives. For more information and registration, visit
cvent.com
WGF, along with New Voices Pittsburgh, the Women's International League for Peace and Freedom, and the Women's Law Project, is working to make Pittsburgh a CEDAW (Convention on the Elimination of all Forms of Discrimination Against Women) City! For more information on CEDAW, you can visit the 
petition
and show your support by signing it.
In the News:
Pentagon Announces the Opening of All Combat Roles to Women: Defense Secretary Ashton B. Carter announced that all combat roles will now be open to women. He elaborated, "They'll be allowed to drive tanks, fire mortars and lead infantry soldiers into combat. They'll be able to serve as Army Rangers and Green Berets, Navy SEALs, Marine Corps infantry, Air Force parajumpers and everything else that was previously open only to men." The groundbreaking decision overturns a longstanding rule that had restricted women from combat roles, even though women have often found themselves in combat in Iraq and Afghanistan over the past 14 years. For more: New York Times
Center for American Women and Politics Releases New Report: Currently, black women represent a significant economic and voting base within the American populace, yet they are seriously underrepresented in politics and even in the pipeline toward elected office. For more, see the full report.
Sweden Gives Feminist Book to Every 16-year-old in Country: Sweden has distributed author Chimamanda Ngozi Adichie's feminist manifesto, "We Should All Be Feminists," to every 16-year-old in the country. The Swedish Women's Lobby partnered with other groups to launch the initiative in the hope of sparking dialogue about feminism in one of the most gender-equal countries in the world. For more: NPR
Election Updates: 
Hillary Clinton releases plan to "rein in Wall Street": Democratic frontrunner Hillary Clinton wrote an Op-Ed for The New York Times on Monday in which she outlined her plan for dealing with Wall Street and preventing in the future the sort of economic climate that led to the Great Recession of 2008. For more: New York Times
Donald Trump still leads polls for Republican primary: The latest polls still show Donald Trump as the GOP frontrunner. However, some experts anticipate that his support might decline following his call on Monday to ban all Muslims from entering the U.S. until the nation's leaders can "figure out what's going on" after the recent shooting in San Bernadino, CA. For more: New York Times 
Feminist of the Week: 


Since Angela Merkel is the first individual woman to be named TIME Person of the Year in nearly 30 years, it seemed only right to make her our Feminist of the Week.  The German Chancellor was highlighted for her role in Europe's crises over migration, her decision to use economic sanctions rather than military force following Russia's incursion into Ukraine, and her response to the Greek debt crisis. TIME praised Merkel for her "steadfast moral leadership in a world where it is in short supply." Read more here: TIME
Feminism in 2015:
With the calendar year coming to a close, we want to review some of the most iconic feminist moments of 2015.


1. Viola Davis became the first Black woman to win an Emmy for Outstanding Lead Actress in a Drama Series.
The win came for her role as Annalise Keating in "How to Get Away With Murder."
Read Davis's acceptance speech here.

2. On July 5, the U.S. Women's National Soccer team defeated Japan to win the FIFA World Cup. The match was the most-watched soccer game in U.S. television history for women or men.
President Obama praised the women's team, saying they "inspired girls to dream bigger — and by the way, inspired millions of boys to look at girls differently, which is just as important."
3. Hillary Clinton and Carly Fiorina both announced they were running for President.
Though the two politicians have very different platforms, having two women as serious contenders in the 2016 presidential race is groundbreaking.
 4. Emma Watson and Malala Yousafzai chatted about Yousafzai's fight for improving women's education and what it means to be a feminist following a screening of the documentary He Named Me Malala.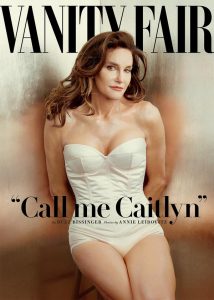 5. Caitlyn Jenner introduced her authentic self on the cover of Vanity Fair.
In April, former Olympic athlete and father figure of the Kardashian clan, Caitlyn Jenner came out as transgender to her family and the world in an interview with Diane Sawyer on ABC.
Though Jenner has faced valid criticism from members and allies of the transgender community, her public coming-out process has sparked valuable debate about trans representation.

6. Misty Copeland became the first Black female principal dancer in American Ballet Theater history.
Copeland said at the April 2015 TIME 100 Gala: "I never saw a ballerina who looked like me before. And I'm here to be a vessel for all these brown ballerinas who have come before me."

7. Jennifer Lawrence published her essay on the Hollywood gender wage gap.
Lawrence said she was "over trying to find the 'adorable' way to state [her] opinion and still be likable!" She elaborated: "I don't think I've ever worked for a man in charge who spent time contemplating what angle he should use to have his voice heard."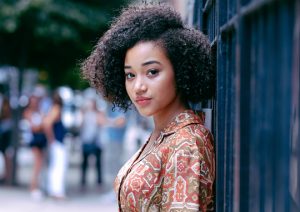 8. Amandla Stenberg called out the treatment of Black women's bodies.
In an Instagram post, the 16-year-old actress wrote: "Black features are beautiful, black women are not…White women are paragons of virtue and desire, black women are objects of fetishism and brutality." Read the rest of her post here.

9. New York Magazine featured 35 of Bill Cosby's accusers in a stirring cover story.
For their July issue, New York Magazine interviewed 35 of the now-over-60 women who have accused Bill Cosby of sexual assault.
The empty chair symbolizes all the survivors of sexual assault who aren't able to come forward with their stories.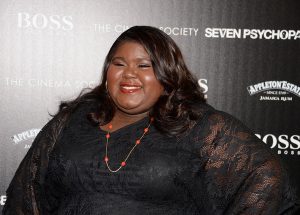 10. Gabourey Sidibe shut down fat shamers in an essay for EW. The "Empire" actress said: "I, a plus sized, dark-skinned woman, had a love scene on primetime television. I had the most fun ever filming that scene even though I was nervous. But I felt sexy and beautiful….I keep hearing that people are 'hating' on it. I'm not sure how anyone could hate on love but that's okay. You may have your memes. Honestly, I'm at work too busy to check Twitter anyway."

11. The Supreme Court legalized same-sex marriage in all 50 states.
The June 26 decision was a 5-4 ruling that made it legal for any American to marry regardless of gender or sexual orientation.
Now women can marry the women they love.
 12. The new edition Barbie of director Ava DuVernay sold out within one hour.
DuVernay, the outspoken director of the Academy Award-nominated Selma, is at the forefront of a new generation of filmmakers not just earning but demanding accolades for their work and the work of other women and people of color.
The immediate consumer response attests to the importance of women's representation in Hollywood, and women of color in particular.
 13. In August, 1st Lt. Kristen Griest and Capt. Shaye Haver became the first women to graduate from the U.S. Army's prestigious Ranger School. The Ranger School is considered one of the most difficult military programs in the country.
Lt. Griest said, "I was thinking really of future generations of women, that I would like them to have that opportunity. So I had that pressure on myself."
 14. After winning a U.S. Open match, tennis star Serena Williams shut down a reporter's sexist question about why she wasn't smiling. "To be perfectly honest with you, I don't want to be here," she said. "I just want to be in bed right now and I have to wake up early to practice. And I don't want to answer any of these questions, and you guys keep asking me the same questions…you're not making it super enjoyable. Just being honest."

15. The #SayHerName campaign highlighted the value of Black women within the #BlackLivesMatter movement.
Activist Dream Hampton explained: "We have always only framed this as a black male problem, and it is time to tell the entire truth about who police violence and terrorism happens to."
 16. Michelle Obama helped launch Let Girls Learn.
The new initiative is designed to fund community girls' education projects like girls' leadership camps and school bathrooms; educate girls in conflict zones; and address poverty, HIV, and other issues that keep girls out of school.
 17. In Saudi Arabia, more than 900 women are running for public office, a first in the kingdom's history.
Though women can only participate at the municipal level, many hope the results of the December 12 elections will improve the representation of women in the conservative Sunni country.

18. 2015 marked the first year that women held 100 seats in Congress.
Though this is a rhetorically pleasant milestone, the glass ceiling is far from shattered — there are 535 voting members total. A century after gaining suffrage, women do not yet make up 1/5 of the body that purports to represent their views and interests.

19. The #ILookLikeAnEngineer and #DistractinglySexy campaigns demanded respect for female scientists while poking fun at silly and outdated stereotypes.
Both hashtags gave scientists the chance to ridicule harmful statements about female fragility and to highlight the diversity within their fields.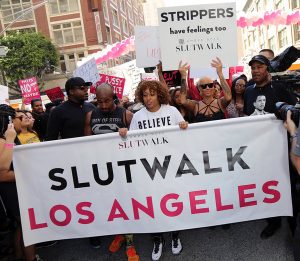 20. Amber Rose led a walk in downtown Los Angeles to combat "slut-shaming."
The former dancer encouraged participants to hold signs that read: "Strippers have feelings too," and "Don't tell me how to dress! Tell them not to rape!"
Rose said, "Even though I'm out here crying, I want to be the strong person that you guys can look up to."

21. Patricia Arquette used her platform at the Academy Awards to make a plea for wage equality.
Arquette won the Oscar for Best Supporting Actress for her performance in "Boyhood."
"It's our time to have wage equality once and for all, and equal rights for women in the United States of America," Arquette said to a cheering crowd.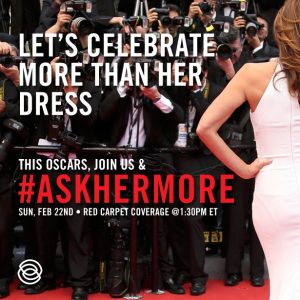 22. The #AskHerMore campaign encouraged the media to ask female actresses, producers, directors, etc. questions that better value their accomplishments.
One of the goals of the social media campaign was to spark deeper conversations in front of a television audience.
 23. Michelle Obama created a feminist playlist to celebrate International Day of the Girl.
The playlist includes songs by Beyonce, Lauryn Hill, Janelle Monae, and more.
 24. Kiran Gandhi ran the entire London marathon without a tampon to fight the "stigma of periods."
To make things even better, she raised $6,000 for breast cancer research at the same time.
Gandhi said, "The marathon for me was about family and feminism."
 25. And finally, Canadian Prime Minister Justin Trudeau explained the reasoning behind his selection of a gender-equal cabinet in just three words:
"Because it's 2015."