Feminist Update
Your weekly update on all things feminism. Keep up to date on the election, the news, and what is going on in the world of women.
WGF Updates: 
Invisible War coming to Pittsburgh: SSAM (Stop Sexual Assault in the Military) was formed in the winter of 2013 by a group of concerned activists. They have engaged in educational work through film showings, speaking engagements, and policy outreach to elected officials.
On Saturday, November 14, they will be screening the Invisible War at 11 am followed by a conversation with attorney Susan Burke. Susan Burke is featured in the film and is a leading figure in the fight against military sexual assault representing and advocating for victims. 

Our Way Home: Alexis Werner, a former Girl Gov participant and current sophomore at Temple University, is premiering her documentary on Post Traumatic Stress Disorder, Our Way Home on November 12, 2015. For more information and to RSVP click the picture below.

Navigating Pittsburgh: The first Navigating Pittsburgh Summit will be held Sunday, November 8 from 9:00 am to 4:00 pm. Topics will be related to Civic Knowledge, Financial Capability, Health and Wellness, Education and Community Engagement, targeting immigrants and newcomers (mainly from medium to low income families), with the purpose of educating them on how to navigate, enter into, actively contribute to and succeed in this city and the region as a whole. For more info, click the picture below!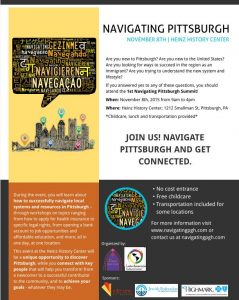 In the News:
Latina Equal Pay Day: This past week, the media shed light on the gender pay gap of Latina women. On average, women make 79 cents to every dollar a white male makes. However, Latina women are paid only 56 cents on average to every dollar. On Twitter this past week, several organizations including the American Association of University Women, the Feminist Majority, and the National Women's Law Center all used the hashtag #LatinaEqualPay.

LGBT Californians make legal strides: "Gov. Jerry Brown (D) signed into law four bills that protect same-sex families, LGBT students and many more." Each of these four bills targets a different flaw in existing law. For more on the bills: feminist.org
#MoreWomen in politics: "Women are noticeably absent from many prominent parts of public life – from comedy panel shows to the benches of politics." With several photo-shopped pictures, there is a clear gender gap in politics as well as other crucial parts of society.
Election Updates:
Sanders' ways of helping women if elected: "He might be going head-to-head with the potential first female president of the United States, but Bernie Sanders' positions on women's rights are going to be hard to contend with." Click here for the full list of ways Sanders promises to help.
Joe Biden election announcement: US Vice-President Joe Biden has announced he will not run for the Democratic nomination in the 2016 White House race. For more and the other candidates' reactions: BBC News
Feminist of the Week:

Zendaya Coleman, 19-year-old singer and actress, has been recently noted for staying true to herself and having the backs of women everywhere. In a recent incident where Modeliste magazine retouched an image of Zendaya, she confronted the picture in an Instagram post. She later commented: "'These are the things that make women self conscious, that create the unrealistic ideals of beauty that we have,' she wrote. 'Anyone who knows who I am knows I stand for honest and pure self love.'" At a young age, Zendaya holds a lot of wisdom and advice many girls can relate to and follow!