Feminist Update
Your weekly update on all things feminism. Keep up to date on the election, the news, and what is going on in the world of women.
WGF Updates: 
This past week, Blayre Holmes, WGF Program Manager, was the keynote at Slippery Rock University's 2015 Women of Distinction Awards Leadership/Mentoring Dinner! Blayre shared many beautiful words of wisdom and inspiration including this nugget: "When I think of the sacrifices they [my grandmothers] made, it gives me passion and strength for my work. So when I'm at City Council advocating for paid sick days for families, when I'm supporting and advocating for Planned Parenthood, when I'm advocating for equal pay for equal work, I think of these amazing women and I push a little harder and I yell for justice even louder. So tonight, I pray and encourage you to find your passion and purpose and when you do hold on to it for dear life."
Messpgh, the Media Empowerment Student Summit is coming Sat Nov 7, 2015! #MESSPGH connects youth voice, youth power, and youth-adult relationships and to empower youth in Greater Pittsburgh in a day of workshops, idea-sharing, and problem-solving.
Crossroads Conference 2016 registration is open! The conference will be held March 10 at the Sheraton Station Square. Visit www.crossroadsforwomen.com for details and to register today!
WGF along with New Voices Pittsburgh, the Women's International League for Peace and Freedom, and the Women's Law Project are working to make Pittsburgh a CEDAW (Convention on the Elimination of all Forms of Discrimination Against Women) City! For more information on what CEDAW is, you can visit the petition and show your support by signing it.
In the News:
Why Open Culture is the Key to Success: Highlighted in a recent post on The Guardian, opening up the culture of a business can attract more and diverse talent, women inclusive, leading to more benefits.
Female leaders gather to underline importance of educating girls: Pairing with Michelle Obama's recent campaign, #62MillionGirls , she along with other female leaders gathered at the Apollo Theater to talk about the power of education. Obama and the other speakers gave advice to nearly one thousand teenage girls. To view more
Study Finds US Gender Wage Gap Persists:  A study conducted by the US Census Bureau and the National Partnership for Women and Families shows that American women who work full-time, year-round jobs on average earn 79 cents for every dollar paid to men.  "This study confirms that a punishing wage gap persists for women in every corner of the country and the costs for women, their families and our national and state economies are significant," said Debra L. Ness, president of the National Partnership for Women and Families.
Rowan Blanchard at it again: The thirteen year old Disney star who became quickly "instafamous" after posting her thoughts on intersectional feminism is at it again, calling Dog With a Blog​ star Blake Michael out on his sexist comments on Twitter. To get the full conversation
Election Updates:
Bernie Sanders gets first presidential endorsement from member of Congress: Sanders received his first endorsement from Arizona representative and leading progressive, Raul Grijalva. Grijalva voices his support, in saying "I am in it with Bernie for the long haul."
Trump's campaign challenging Clinton's: With, "interviews with Trump campaign officials and volunteers, as well as political operatives and voters on the ground in early nominating states," Trump's growing voters proves to be a potential challenge for Clinton this time next year. For more

Feminist of the Week: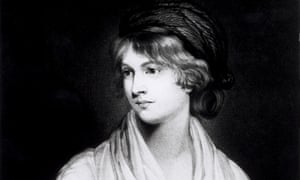 Mary Wollstonecraft (27 April 1759 – 10 September 1797) was an English writer, philosopher, and advocate of women's rights. She is often regarded as the "original suffragette." William Godwin, her husband wrote her first biography after her death, inadvertently damaging her reputation. However, Mary on the Green, a campaign dedicated to Wollstonecraft and Alma books is soon publishing a book telling the story of Wollstonecraft's life.