Feminist Update
Your weekly update on all things feminism. Keep up to date on the election, the news, and what is going on in the world of women.
WGF Updates: 
Invisible War coming to Pittsburgh: SSAM (Stop Sexual Assault in the Military) was formed in the winter of 2013 by a group of concerned activists. They have engaged in educational work through film showings, speaking engagements, and policy outreach to elected officials.
On Saturday, November 14, they will be screening the Invisible War at 11 am followed by a conversation with attorney Susan Burke. Susan Burke is featured in the film and is a leading figure in the fight against military sexual assault representing and advocating for victims. 

Our Way Home: Alexis Werner, a former Girl Gov participant and current sophomore at Temple University is premiering her documentary on Post Traumatic Stress Disorder, Our Way Home on November 12, 2015. For more information and to RSVP click the picture below.

Navigating Pittsburgh: The first Navigating Pittsburgh Summit will be held Sunday, November 8 from 9:00 am to 4:00 pm. Topics will be related to Civic Knowledge, Financial Capability, Health and Wellness, Education and Community Engagement, targeting immigrants and newcomers, mainly from medium to low income families, with the purpose of educating them on how to navigate, enter into, actively contribute to and succeed in this city and the region as a whole. For more info, click the picture below!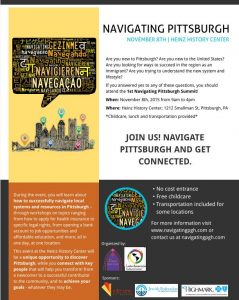 In the News:
Governor Cuomo Signs Legislation to Protect and Further Women's Equality in New York State: The Governor announced that approximately $6.4 million will be invested in Sexual Assault Prevention and Assistance Providers. He signed a number of new laws that will help achieve pay equity, strengthen human trafficking laws and protections for domestic violence victims, and end pregnancy discrimination in all workplace.
Rowan Blanchard: 'White Feminists Forget That Feminism Means Equality': Young actress and activist Rowan Blanchard continues voicing her opinions on feminism and offering her wise take on issues like gender and racial inequality. In an interview with Huffpost, she said "I think it all comes down to recognizing your privilege and recognizing how to help others. So obviously a white man is more privileged than I am, but I am still more privileged than somebody else."
A month to remember: "Most of us have been touched in some way by breast cancer, the number one cause of cancer deaths in women worldwide. Breast Cancer Awareness Month is a time to reflect on the special women in our lives who died too soon, many leaving behind devastated families. As October draws to a close, we applaud this advocacy initiative, and take stock of its achievements and the challenges ahead."
Election Updates:
Republican 2016 debate: Winners and losers in five key fights: According to BBC News, one of the most notable fights was John Kasich v Donald Trump and Ben Carson in which Kasich said, "Folks, we've got to wake up, we cannot elect somebody that doesn't know how to do the job." For more on the 2016 Republican Debate, visit BBC News.
Ben Carson, Beating All Comers: "Ben Carson isn't just ahead in Iowa. As of now, it looks as if he can beat any of his Republican presidential challengers in a one-on-one contest." For more
Feminist of the Week: 

Robby Novak, better known as Kid President, is an eleven-year-old author and YouTube sensation… and now also a kid feminist! His Kid President series covers everything from politics to pep talks. In "The History of Awesome Girls Rap," Novak uses clever rhymes to express and call attention to the amazing contributions of women.