With Femisphere, WGF is challenging Pittsburgh to become an ecosystem where women and girls thrive. With Femisphere Codeswitch, we created digital tools to help single moms in poverty access the resources they need to thrive.
The Problem:
77% of households in poverty in Pittsburgh are headed by single moms. This is an unacceptable number. Most families have an average of eight basic needs to be met, and no one organization can meet them all. These moms are disconnected from the resources they and their families need, due to lack of access and knowledge of existing resources. This leaves every mom to navigate the complicated system by herself, while juggling jobs, school, and her kids.
But – imagine a world in which that was different. Imagine a world where women and girls in the region were truly put in the center of development and have everything they need to survive. The world you're imagining is a Femisphere. Femisphere, a program of the Women and Girls Foundation, was launched in 2014 with the goal of creating an ecosystem where women can access all the resources and services they and their families need to live, thrive, and lift themselves out of poverty. It is focused on connecting moms to vital services through enhanced service delivery, policy change, and development of user centered designs to break down systemic barriers to economic opportunities.
The Solution:
Saturday, March 30: A Community Conversation
50 moms and coders came together to discuss issues and potential solutions for moms in Allegheny County and came up with 13 concept posters by the end of it. Thank you to MAYA Design for helping us design and facilitating this workshop!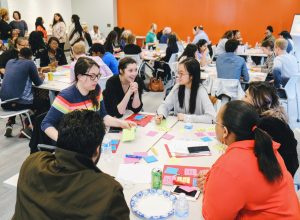 Friday, April 5-Sunday, April 7: Kick Off & Launch // Hackathon Work Days
We kicked off the hackathon with a networking mixer and a workshop from one of our sponsors, mongoDB, on Friday night; and then our teams of coders got to work over the weekend to create their solutions, with the help of our consultant moms! We had over 40 moms throughout the weekend in shifts, working with and providing feedback to our teams of coders, which helped them create their solutions not just for single moms – but with single moms. On Sunday night, our teams presented their final products to our panel of judges, and we chose the final winners!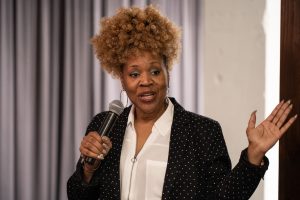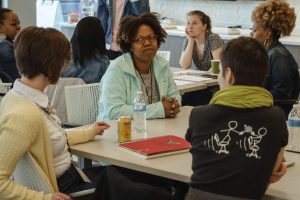 Monday, April 8: Awards Ceremony
To kick off our awards ceremony, we had four of our moms speak on a panel about their hopes for how technology could help them thrive in Allegheny County, and then we announced the winners!
MomPOOL was a team of CMU students: Abbey Mui, Brandon Pek, Zoe Teoh, and Clement Wong.
MomHacks had Hinna Hafiz, Ankita Kundu, Haley Nugent, and Matt Sandler on their team!
First place: TIE between

MommyMap

&

Hidden Gems

!
(Watch MommyMap here and Hidden Gems here!)
MommyMap was a team of CMU design students, Tiffany Zhu & Rayna Allonce, and Hidden Gems had Kevin Sapp, Greg Hopkins, and Anthony Levin-Decanini.
Press:
Thank you to our sponsors:

Thank you to our sponsors: The Hillman Foundation, Uber, mongoDB, Work Hard Pittsburgh, The David Berg Center for Ethics and Leadership at Pitt Business, The Rock Family Foundation, Quandarymat,
Polyconcept North America,
Schell Games, Mom & Data,
Carnegie Mellon University, Ascender, NOVA Place, 
and our Childcare Sponsor, Flexable!