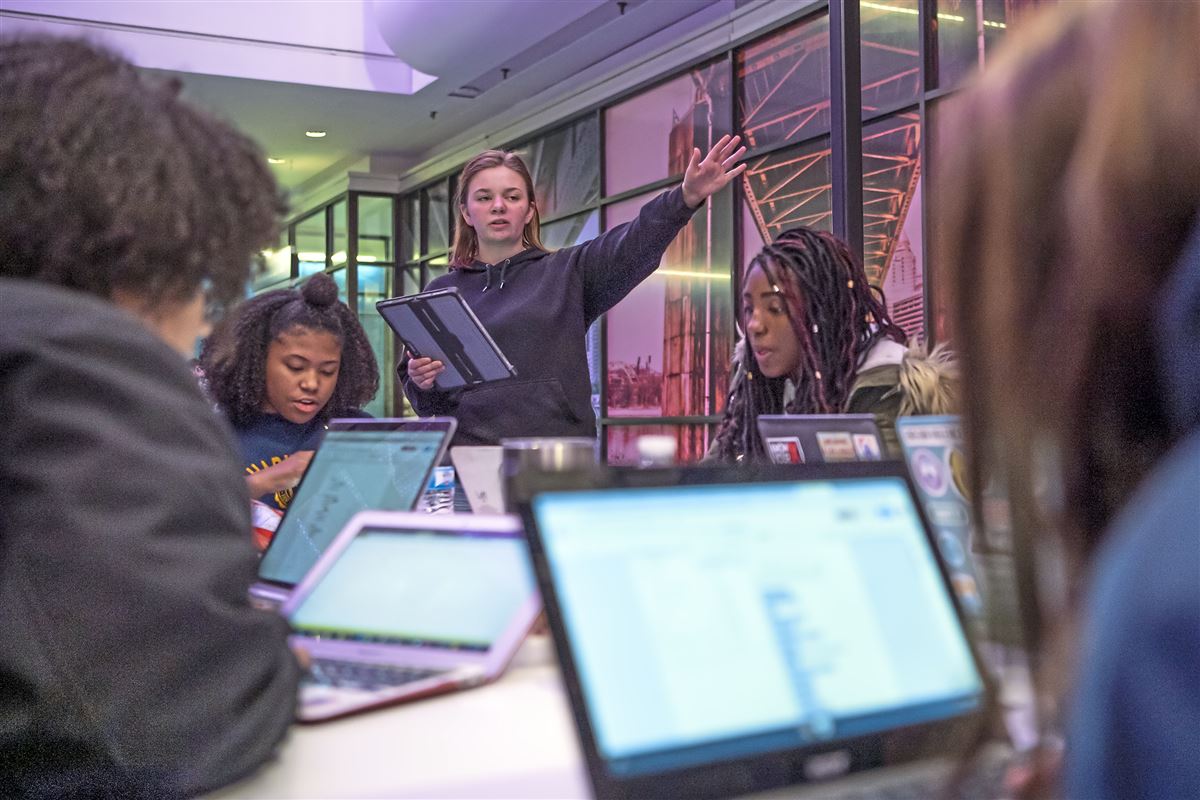 This article was originally published by The Pittsburgh Post Gazette. You can find the article here. 
Samidha Sane, 19, was volunteering at a soup kitchen a few years ago when she spoke to a woman who told her she had to use paper bags when she didn't have a menstrual pad or tampon.
And when Ms. Sane met with a group of fellow high school girls last year to discuss a community civics project, she said they all had similar stories to share: about homeless women, classmates who don't have a lot of money or girls who just forgot to pack extra feminine products before leaving the house for the day.
The seemingly "taboo" subject of menstruation is preventing women and girls from acquiring feminine hygiene products, the group concluded, either because they don't have the money to pay for them or feel uncomfortable asking for them.
"A lot of people were just as surprised as I was that this is actually a real issue, and that just shows that this is an issue we don't talk about enough and we really should," said Ms. Sane, who graduated from North Allegheny High School and now is a freshman at the University of Pennsylvania.
The group of more than two dozen teenage girls decided to tackle the problem as part of their "Menstrual Mission" project through GirlGov, a program of the Women and Girls Foundation, a Pittsburgh-based advocacy nonprofit covering southwestern Pennsylvania.
They spent last school year researching "period poverty," and polling their school nurses and taking the issue before the school boards where they lived. They met with Allegheny County Executive Rich Fitzgerald and lobbied for free menstrual product dispensers in public bathrooms in county buildings, a proposal he supported and pushed forward. The last of 26 feminine hygiene product dispensers will be installed within the next few months, county spokeswoman Amie Downs said.
"On the whole, I'm very proud of our entire group of young women," Ms. Sane said. "That's why we need more women in government."
Encouraging more young women to get involved in government and policymaking is one of the central missions of GirlGov, program leaders said. The program, which drew more than 200 applicants this year, aims to teach teenage girls about civics, women's history and social justice.
It began in 2005 as a program to teach young women about grant writing, but expanded to include an advocacy and engagement component after the girls launched a "Girlcott" against retailer Abercrombie & Fitch over T-shirts that they believed were demeaning to women. The program's mission has expanded even further over the years and now includes trips to Harrisburg to shadow state legislators and learn from the policymakers in Pennsylvania government.
"This generation of students really wants to be a part of effecting change," said Tara Simmons, chief operating officer of the Women and Girls Foundation. "It's very much a program that is girl-led — each committee has girl leaders, the girls are identifying the issues, we're not prescribing the issues to them. The girls are doing the research, the girls are looking at current legislation."
About 150 girls were accepted into the program this year. They come from 55 different high schools across seven counties, Ms. Simmons said. They split into four committees to tackle various issues throughout the school year. They begin with a retreat in September and conclude the year with the trip to Harrisburg in May or June. They meet on the North Side twice a month to work on their projects together.
This year, the teens are working on projects related to single-use plastics, Title IX, protections for the LGBT community and the Ethnic Intimidation Act, and shining light on police officer personnel files, something they wanted to pursue after the fatal shooting of 17-year-old Antwon Rose by an East Pittsburgh police officer last June.
In the past, they have tackled issues like diesel emissions from school buses and Sarah's Bill, named for a GirlGov participant who pushed for restraining order protections for victims of stalking and harassment.
"It changed everything for me," said Rebekeh Chikuni, a 16-year-old junior at Upper St. Clair High School.
She previously wanted to become a speech therapist, but since participating in GirlGov, she hopes to attend Georgetown University and study political science or international relations. She's participating for her second year this year, and was a member of the committee that worked on the "Menstrual Mission" and one of the girls who met with the county executive to present the proposal for product dispensers.
The girls spent months researching the issues surrounding access to feminine hygiene products, both internationally and at home. They reviewed policies from New York, where a new policy requires schools to make free pads and tampons available to students. GirlGov members coordinated with SisterFriend, a local nonprofit that puts together kits of feminine hygiene products for Pittsburgh area homeless and women shelters. Last year, the group began a partnership with Pittsburgh Public Schools to offer them to students.
Mr. Fitzgerald said the issue wasn't on his radar until the members of GirlGov presented their proposal to him several months ago. He was impressed with how prepared they were and how much research they had done on the topic.
Ms. Sane and Ms. Chikuni said he was immediately open to the idea and reached out to the Health Department to make it happen.
The dispensers cost the county about $4,300 and an additional $2,300 for the products to stock them, Ms. Downs said. They are being installed in bathrooms in the county's public buildings, including in the courthouse and the county parks.
"They made a compelling case and you can tell they were serious. They were very enthusiastic about it," Mr. Fitzgerald said. "You could tell they believed in it. It was something from their heart."
At GirlGov's meeting last week, the installation of the dispensers was hailed as a "huge victory" for GirlGov members, and evidence of what they can accomplish with hard work.
"If you are not clean, you don't feel human. How are you going to go out there and get a job? How are you going to go out there and get yourself together if you can't address your basic needs?" Ms. Chikuni said. "For me, this is for my community. I'm so proud to call this place my home."
Elizabeth Behrman: Lbehrman@post-gazette.com, 412-263-1590 or @Ebehrman on Twitter.
This article was originally published by The Pittsburgh Post Gazette. You can find the article here.